16ft Pirate Ship Water Slide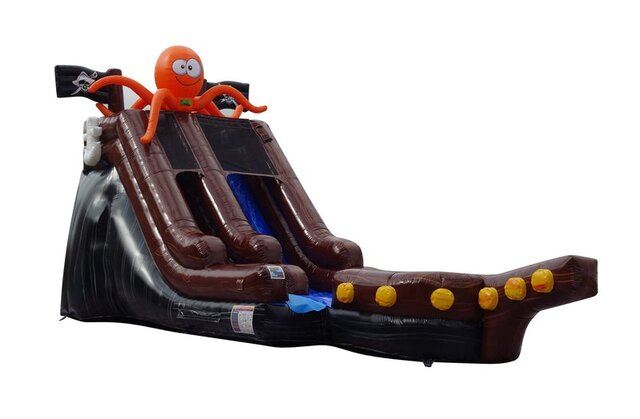 Description
Ahoy there! Are you ready to set sail on an adventure like no other? Then climb aboard our 16ft Pirate Ship Water Slide and prepare to experience the ultimate thrill ride!
This inflatable water slide is designed to look like a real pirate ship, complete with Otte the Octopus, colorful sails, and even a fearsome skull and crossbones flag. But don't let the pirate theme fool you - this slide is all about fun, excitement, and cooling off on a hot summer day.
With a height of 16ft, this slide is perfect for kids and adults alike. Climb up the ladder to the top of the ship and take a deep breath before launching yourself down the slide. You'll feel the rush of the wind in your hair as you speed towards the splash pool at the bottom.
But the fun doesn't stop there. The splash pool is the perfect place to cool off and relax after your thrilling ride.
So what are you waiting for? Book your 16ft Pirate Ship Water Slide today and get ready to embark on an adventure you'll never forget!